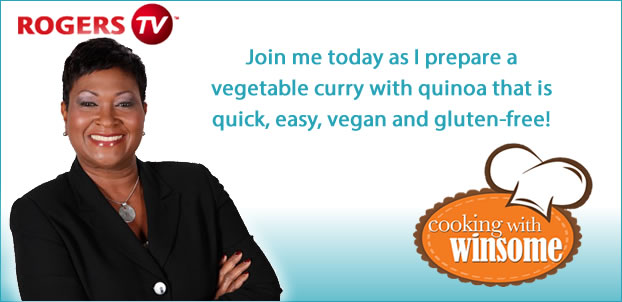 Vegetable Curry with Quinoa
Join me today as I prepare a vegetable curry with quinoa that is quick, easy, vegan and gluten-free!

Curried Vegetables with Tofu & Chickpeas
(Original Recipe from Winsome Dewar, RHN, Healthy Options.)
2 cups/500 ml Broccoli Florets
2 tbsp. /30 ml Extra Virgin Olive Oil
2 cups/500 ml Cauliflower (cut into large chunks)
1 tsp. freshly ground black pepper (divided)
1 large Red Pepper, cut into large chunks 1 medium Onion, sliced
2 cloves Garlic, thinly sliced
3 tbsp. /45 ml Curry Powder
1 tsp. of finely sliced ginger
1/2 tsp. /2 ml Black Pepper
1 tsp. /5 ml salt
2 tsp. chopped fresh thyme, divided
1/2 cup/125 ml water
1 cup/500 ml Chick Peas
6 oz. /180 g firm Tofu, cubed
Warm oil in a large saucepan and add onions, garlic, ginger, and curry powder.  Sautee until onions is slightly tender.
Add broccoli and cauliflower, salt, pepper, and 1/2 of the water.  Cook, stirring often for about 4 minutes, then add the peppers, chick peas, thyme, tofu, and remaining water.
Cook until vegetables are slightly tender.  Do not overcook the peppers
Quinoa
1 1/2 cups/625 ml Quinoa
3 cups Water
½ tsp. /2 ml Sea Salt
1 clove Garlic, minced
2 tbsp. /30 ml chopped Parsley
In a medium saucepan, add Quinoa to boiling salted water, and cook until water has been absorbed. (You should reduce the temperature of the stove as the water levels drop.) Add garlic and chopped parsley to cooked Quinoa and serve.