Gluten Free Chocolate Raspberry Cake
Today I am with Franz Hochholdinger Owner and Operator of Apricot Tree Café and Bistro Narra preparing a delicious Gluten Free Chocolate Raspberry Cake
Sponge
175g Semi Sweet Chocolate
125 g Butter
6 Eggs
100 g Sugar
Melt chocolate together with butter over double boiler
Separate 4 eggs
Whip egg yolks together with 2 whole eggs and 80 g Sugar until very creamy
Whip egg whites together with the remaining sugar until firm
Add 1/3 of yolk mixture to the chocolate mix and combine.
Once incorporated add remaining yolk mixture and combine
Fold in whipped egg whites
Pour into spring mold and bake at 300F for about 35 minutes and let cool
Chocolate Ganache
300 ml whipping Cream
300 g Semi sweet or bitter sweet chocolate
2 ½ baskets of fresh raspberries
Bring whipping cream to boil and pour over chocolate
Stir occasionally and let cool
Finishing
Remove sponge from the spring mold and place sponge onto a tray
Put mold back over the sponge
Cover sponge with raspberries and pour ganache over it and let chill
Once chilled remove from mold and cover with chocolate shavings and garnish with fresh raspberries
Franz Hochholdinger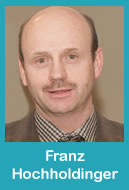 Owner and Operator of Apricot Tree Café and Bistro Narra
Born in Austria, finished apprentice ship as Confectioner and baker, worked in several Hotels in Austria and Switzerland before coming to Toronto to work at Movenpick for 4 years.
Opened Apricot Tree Café in 1993 and Bistro Narra in 2010
Appricot Tree Café is celebrating its 20th anniversary this year.
We will be offering specials throughout the year starting in March already.
It could include 2 for 1 dinner on some nights, special priced cakes on other days and so on. Special offers will be posted on our website well in advance.
Crepe Fest will start at Apricot Tree Café on March
Apricot Tree Café
1900 Dundas Street West
Mississauga,ON
L5K1P9
905-855-1470