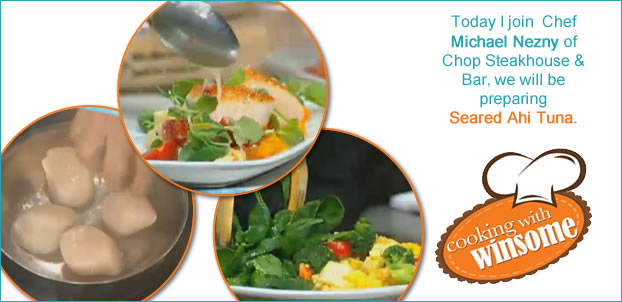 Seared Ahi Tuna
Today I join Chef Michael Nezny of Chop Steakhouse & Bar, we will be preparing Seared Ahi Tuna.

Tuna Salad Recipe
2oz Butter Leaf Lettuce, sliced 1″ x 2″, clean & cored
½oz Pea Shoots
3oz Tuna Tataki Slices, Season tuna with salt and pepper, sear in a hot pan with canola oil; chill and slice thinly
¼" Slices, Roma Tomato
¼" English Cucumber Slices – halved
2fl oz Wasabi Lime Dressing
2 fl oz Minted Mushroom Salad
¼ox Pickled Ginger
½ tsp Wasabi Paste
Minted Mushroom Salad
4oz Mature Mushrooms
4oz Portobello Mushrooms, sliced ⅛"
1 tsp Minced Shallots
1 fl oz Canola Oil
1 fl oz White Wine
2 fl oz Wasabi Lime Dressing
½oz Mint Leaf Chiffonade
Heat up saute pan really hot, add the oil and when it starts smoking add the shallots and toss to sweat (about 30 seconds).
Add both mushrooms and continue to just sweat the mushrooms for 1 minute or so. After about 1 minute, deglaze pan with white wine and reduce by half.
Add the Wasabi dressing and toss to coat.
Chill in refridgerator before adding to salad
Wasabi Lime Dressing
3 fl oz Rice Vinegar
½ tsp Wasabi Paste
½oz Peeled Fresh Ginger Minced
4 fl oz Honey
1 tbsp Fresh Chopped Parsley (by hand)
1 tsp Lime Juice
1 fl oz Soya Sauce
1 tsp Table Salt
3 fl oz Sesame Oil
5 fl oz Canola Oil
Add the vinegar and Wasabi in blender or food processer and blend until all Wasabi is incorporated.
Add everything else except canola & sesame oil. Blend ingredients until combined.
Slowly add the canola and sesame oil with a stream the thickness of a pen while blending constantly until all is used. This will result in an emulsified dressing.
Assembly
To plate dish, dress butter leaf lettuce with wasabi lime dressing right before serving, add minted Mushroom salad to plate and garnish salad with sliced tomatoes, cucumber, pea shoots, pickled ginger and a few dots of wasabi paste.
Thinly slice seared tuna and place on top of salad.
Garnish with toasted sesame seeds (optional)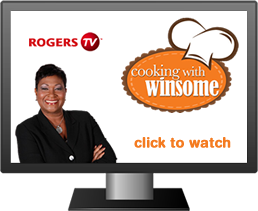 Chef Michael Nezny
Chef Nezny attained his Red Seal certification at the young age of 22 years. In 2006, he accepted a position with the prestigious Fairmount Chateau Lake Louise as Outlet Chef becoming not only the youngest Outlet Chef in the storied brand's history but also being responsible for one of the busiest food and beverage divisions for Fairmont in the world.
Driven by a passion for high volume, superior food quality operations, the growing Chop Steakhouse & Bar brand was an obvious fit. Chef Nezny became a Senior Chef for Chop in 2010, where he travelled the country and managed the national culinary program.
Today, he has found his home in Toronto as Chef and Operating Partner of the first Chop location in Eastern Canada.